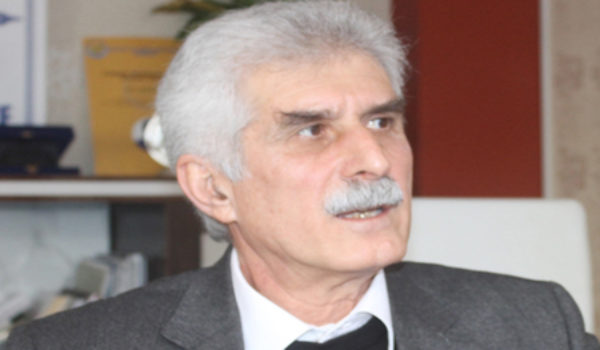 Şerefxan Cizîrî bersiva pirsên Rojevakurd de dibêje: Em hemû dizanin ku Kurd û partiyên wana bi hevdû re stratejik tevnagerin. Li hevdû baş guhdar nakin. Siyaset îro Kurdistan xitimîyê û qerimîye. Pêşeroj ne zelal e. Cizîrî da xûyakirin ku; Divê her kes baş zanibe ku Rebaza Barzanî ji bona netewayetiya Kurd, beriya her tiştî hevbeşbûn û pêkvejiyana Kurdan e …
Rojevakurd: Hilbijartinên herêmî rewşek çawa de têne kirin? Hun di vê qonaxê de rewşa Kurdistanê çawa dinirxînin?
Şerefxan Cizîrî: Rewşa Kurdistana Bakur ji aliyê siyasî û rewşenbirî de tevlihev e. Kes li kesî guhdar nake. Em her roj di asta siyasî de li qûr qûra baqan guhdarî dikin. Ango nîqaşên me bê wate bûne. Em hemû dizanin ku Kurd û partiyên wana bi hevdû re stratejik tevnagerin. Li hevdû baş guhdar nakin. Siyaset îro Kurdistan xitimîyê û qerimîye. Pêşeroj ne zelal e, tucaran baş ne dîyar e. Her kes gazinan ji hevdû dike lê mecala wan ku li hevdû baş guhdar bikin, hevdû baş fêm bikin tuneye, ev ji holê rabûye. Em gûhê xwe digirin û diaxivin. Kes bi dilşewatî nêzikê meselan nabe. Gotin û dîtinên jiberkirî tên dubare kirin. Mirov bi kê re biaxive, dibêje; ez li ser rêbaza Barzanî me, lê ji bona ku neyên cem hevdû jî bi heft hespan dikevin nava pêşbirkên bê wate!.. Di wan pişbirkande xelatên netewî tune ne, tenê çolên bê av û şinahî hene.
Divê her kes baş zanibe ku Rebaza Barzanî ji bona netewayetiya Kurd, beriya her tiştî hevbeşbûn û pêkvejiyana Kurdan e …
Di van mijaran de rewşenbîr jî ketine nava kemînên medya civakî û fişekên vala berdidin hevdû. Ha ha gazinan ji rêxistinên siyasî dikin. Xitimandina fikrî ku heye, ev bi salan e bûye kospek mezin li pêşberî hevbeşbûna me. Hicetên ku berîya 40- 50 salî hebûn bi heman tovbûnê têne dubarekirin. Herkes ji xwe re li dijberekî û li dijminekî digere. Her kes jî dijber û dijminê wina li gora derûniya wîna ye. Ev dijberî û dijminayetî ne li gora hewcedariyên welatê me ye. Beriya her tiştî ev dijberî û dijminayetî xizmetê ji xeta dagirkerê welatê re dike.
Ew ên ku weke "rewşenbiran" tevdigerin ji rastiyên siyaset û civakê bi dûr ketine. Di nava xeyalên ku bûne nexweşîyeke şîzofrenî de sobayê dikin. Xwe hergav navenda Kurd û Kurdistanê dibinin lê hayê gelê wana ji wana tuneye! Xwe bila sebeb li ber baranê şil dikin… Ji siha xwe re dibêje; bi wir de here!.. Xwe bi tepiskan dawdişînin!.. Ez im Xelifê yê Bexdayê dibêjin! Kesî ji xwe pê ve naecibînin û li hemû kesan û partiyan şiretên "netewî" dikin! Pêwendîyên wana bûne weke pêwendiyên magazina sosyetê Tirkan; kî dostê û kî dijminê rojane tê guhertin. Ango di nava rewşenbiran de jî megolemaniyeke dûrî aqilan peyde bûye. Peywira netewî ya helî mezin li gora wana ev e ku di feysboka xwe de çend gotin û dîtinên çeloxwarî binivîsîne û hebana xwe vala bikin..
Belê, rewşa Kurdistana Bakur jî raserî rastiyên me yên siyasî û rewşenbirî birêve diçe. Piraniya miletê me di nava partiyên sistemê de cihê xwe girtine, bi wana re tevger dikin, bahweriya wana bi doza Kurdan nemaye, heke di dilê wana de hebe jî, li gora dilê xwe helwesta xwe dîyar nakin. Bi dûv berjewendîyên şexsî ketine. Zimanê xwe jibira kirine, kultura xwe li ber avê berdan e. Hinek bi dûv Erbanê ketine, hinek bûne mijara magazîna sosyetê Tirkan, hinek bûne şelafê sistema dagirkeran, hinek bûne qarîyerîst, hinek bûne kozmopolît û hinek li ser firdikên postmodernizmê siyaseta enternasyonal dikin! Ango ji aliyê fikir û raman de hevbeşbûnek tuneye. Projeksîyonek tuneye, projeyeke netewî tuneye, hemû kes ji alîyê fikrî de nîqaşe li ser rewşa başûr dike – hinek li gel û hinek li dij- Lê ma li Kurdistana Bakur bi rastî û dirustî divê em çi bikin, çi bejin, çi bistırên, çi karî bi hevre bikin ne baş zelal e. Hinek ji me şerê xwe li ser Kurdistana Bakur di ser Kurdistana Başur re didin meşandin…
Ev jî rasta rasta durûtiye û pêvçûneke bêwate ye…
Lê çawa be jî divê mirov li bakur siyaseteke hevbeş, demokratîk, netewî bimeşine. Ji me re sebir û zanebûn lazim e. Ji bona daxwazên hevbeşbûnê, demokrasî û netewîbûnê divê bi baldarî mirov tevbigere û helwesta xwe li gora vê rastiyê zelal bike. Di wî warî de siyaseteke biaqil ji Kurdan re lazim e. Ev siyaset jî incex di hevkarîya nava hêzên Kurdan de dikare pêk were. Em Kurd divê bi hevdû re li pirsên hevbeş û çareserîya wana bigerin. Gelek bajarên me îro di destê partîyên sistemê de ne, qayûm bajarên me birêve dibin. Di hilbijartinên hermenî de em divê bi hev re helwbidin ku bajarên Kurdan ji destê partiyên sistemê û qayûman xilas bikin. Armanca sereke di vê hilbijartinê de divê ev be.
Li gora we divê tevgera Kurd di van hilbijartinan de çawa tevbigere?
Tevgera Kurdan divê li rê û rêbazên hevbeş bigere. Hevbeşbûn divê di nava tevgera Kurdan de bi dildarî were nîqaş kirin. Em Kurd divê li hevdû bibanin, hevdû qebûl bikin, bi destê hevdû bigirin. Ji bona wan armancan divê em hinek tiştên tehl – demkî be jî- daqûrtinin. Divê di nava partî, rêxistin, rewşenbirên Kurdan de nirxên amintî, hevbeşbûnê werin ava kirin û bi dilgermî werin parastin. Xebata Platforma Zimanê Kurdî destpêkek gelek baş bû di vî warî de. Gava ku neh partîyên Kurdan ji bona zimanê xwe, ji bona ku zimanê Kurdî bibe zimanê fermî û perwerdê bi hevdû re peymanan îmze bikin, xebatê bikin, ew dibe destpêkek erênî ji bona doza Kurdan. Di warê siyasî û hilbijartinan heremî de jî em dikarin heman rêbaze bikar binin. Îro li bakur pirsa helî giring pirsa ziman, kultur û asimilasyona Kurda ye. Heke Kurd li bakur di wan warên hevbeş de bi hevdû re karnekin, wê bi demê re doza netewî têk here. Ji xwe Kurdistan li gelek hereman ji nirxên Kurdan jî vala bûye… Hinek bajaran nasnameya xwe ya Kurdî ji dest dane, tenê di hişê me de bajarê Kurdan e. Dive em karibin çirûskeke hevkarîyê bi hevdû re bilind bikin. Di xebata hilbijartina şaredariyan de divê em hêvîyeke, moralekî, çoşeke karibin bidin gelê Kurd.
Miletê me ji berberiya navxweyî bi rastî bêzar bûye…
Hinek aliyên Kurda ji nihave kêm zêde helwesta xwe eşkere kirine. Hun vê yekê çawa dinirxînin û helwesta aliyên siyasî çaw dibînin?
Di nava Tifaqa Kurdistanî de me bi hevdû re biryar dabû ku, Tifaq di nava xwe de hîna zelal nebûye; Du rê li ber me hebûn; yek xeta hevkarîyê di nava Kurdan de bû, dido nemzetên serbixwe bûn. Me şewra xwe danibû ku di nava partiyên tifaqê de ev herdû xet werin bilevkirin, bên parastin. Ma gotibû ku di nava tifaqê de nîqaşa me berdewam e… Lê hinek biraderên me xeta namzetên serbixwe zû îlan kirin û bi lezûbez xeta hevkariyê xwestin pûç derxînin. Ew biraderên me hîna ji hilbijartina parlemento û vir de diljikestîbûne, bi hestyarî tevdigerin, argumentên ku wana di hilbijartina parlamento de bi dilgermî di parastin, anha ji binî de jıbîrkirine. Ma gelo di siyaseta Kurdan de ji hilbijartina parlamento û vir de, ji hela prensîb û siyasetê de çi hatiyê guhertin? Divê mirov yekser bibêje, qet tiştek nehatiyê guhertin! Partîyên me her weke xwe mane. Lê divê mirov zanibe ku me hilbijartına tecrubeya parlamento li paş xwe hiştiye; di vê mijarê de kî gelekî sucdar e, kî zêde gunehkar e, kî hindikî sucdar e bila ji wextê û dîrokê re bimîne. Bila ev tecrübe bi hemû aliyên xwe ve baş dîyar bibe, bila lêkolinvan bêalî tecrûbeyên vê mijarê binivîsinin. Û herkes ji para xwe ji vê encamê bigire.
Gotineke me Kurdan heye; dibêje; ku te girt bermede û ku te berda jî bi dûv nekeve!
Mesela pirsa namzetên serbixwe, astengiyên ku di vî warî de hene min di gotara xwe ya ku bi navê Hİlbijartina Şaredariyan di Rojeva Kurd hatibû weşandin anibûn ziman. Ez naxwazim ditinên xwe dubare bikim. Lê divê mirov tiştekî eşkere bine ziman ku, di rastiya şaredariyên Bakur de namzetên serbixwe, bi rewşa ku îro heye de, ji hêla pratîka siyaseta heremî de ne rêyeke rasyonel xuya dike…
Hun pêkanîna Tifaqa Kurdistanî pêwist dibînin yan na? Eger hun pêwîst dibinên gerek li ser çi prensîban Tifaqa Kurdî /Kurdistanî pê avakirin?
Belê, ez tifaqêka Kurdî/ Kurdistanî weke nan û avê pêwist dibinim. Heke ev nebe pêşeroja Kurdan li bakur rêşbine. Bi vî halê xwe yê belawela em nagihêjin tu meqsed û miradan. Ne tenê di nava partiyên ku tifaq ava kiribûn de, lê di nava hemû partî, rêxistin, komik û saziyên sivîl de divê ev tifaq were avakirin. Kî bixwaze beşdarî tifaqê bibe, divê asteng ji wana re dernekevin. Em bi hevdû re kurd in, kes ji kesî ne çêtire, Luksa me tuneyên ku em kesî li derve bihelin, an jî hinekan destheramo bikin. Çi rêxistin, partî, komikên ku mafên netewî, mafê hevbeş û kolektîf, mafên demokratîk ji bona Kurdan biparêzin divê di nava tifaqê de bikaribin cihê xwe bigirin. Mafên demokratîk, kolektîf, netewî divê pêşî ji pirsa ziman, perwerde, kultur, nasname û statûya Kurdan destpêbike…
Hilbet dildixwaze ku ev tifaq karibê li ser programên birfirehtir jî li hevdû bîke, lê gava ku ev ne pêkan be, mirov divê derîyê hevkarî û tifaqê kilit neke. Partiyên ku li derveyi tifaqa Kurdistanî bûn weke HAK PAR ê, HDP ê, HUDA PARê û BDPê, em îro dibinin ku HDP û BDP di nava platforma ziman de bidilgermî cihê xwe girtine. Ma ev ne pêşketineke erênî ye? Partîyên din jî dikarin werin beşdar bibin. Ev ji doza ziman, kultur û perwerdehîyê bi zimanê Kurdî dikin. Kurd di vê mijarê de divê hevbeş bibin. Ev partî jî dixwazin -minîmûm be jî- pirsa Kurdan bi hawayekî çareser bibe û şer were rawestandin.
Heke Kurd nikaribin di van pirsan de hevbeş bibin, emê çawa karibên di welateke serbixwe û azad de bi hevre bijîn? Ma Kurdistan tenê welatê partî û komikek ye? Heke Kurdistan welatê me hemûyan be, divê hemû reng û dengên Kurdan li welatê me hebin û bi hev re bijîn. Heke em bi rastî di vê pirsê de dırustbin, pêkvejîyan li welatê me vê helwestê ji me dixwaze. Ma netewayetî bê pêkvejiyan û hevbeşbûn gelo li welatê me pêkan e?
Silav û rêz.
Şerefxan Cizîrî